In the past few months, too many people have been laid off from the EdTech industry in India.
What was once a booming industry with multiple startups being valued at a billion dollars, now looks gloomy.
Mega brands like Unacademy laid off 600 employees, BYJU's 800 employees; and companies like 'LIDO' and 'Udayy' have shut down despite raising millions of dollars in funding.
So the question is,
How did India's EdTech Industry go from being a goldmine to a graveyard for Startups?
What kind of Startups will survive this EdTech crash?
Most importantly, as students of business, what are the most important lessons that we need to learn from the upcoming EdTech crash in India?
To understand the root cause of this crash, we first have to know the reasons behind the boom of EdTech in India and why the industry suddenly became a billion-dollar market in the country.
Let's draw a comparison between a Physical Institute and Digital Institute, and what the financials of such companies tell us.
In a Physical Institute, the expenses covered would include teacher's salary, rent, admin, support staff, study materials, housekeeping, bills and Ad revenue.
The ad revenue would cover Billboards, Seminars, Newspaper ads and TV ads.
It's a profitable but very capital intensive business.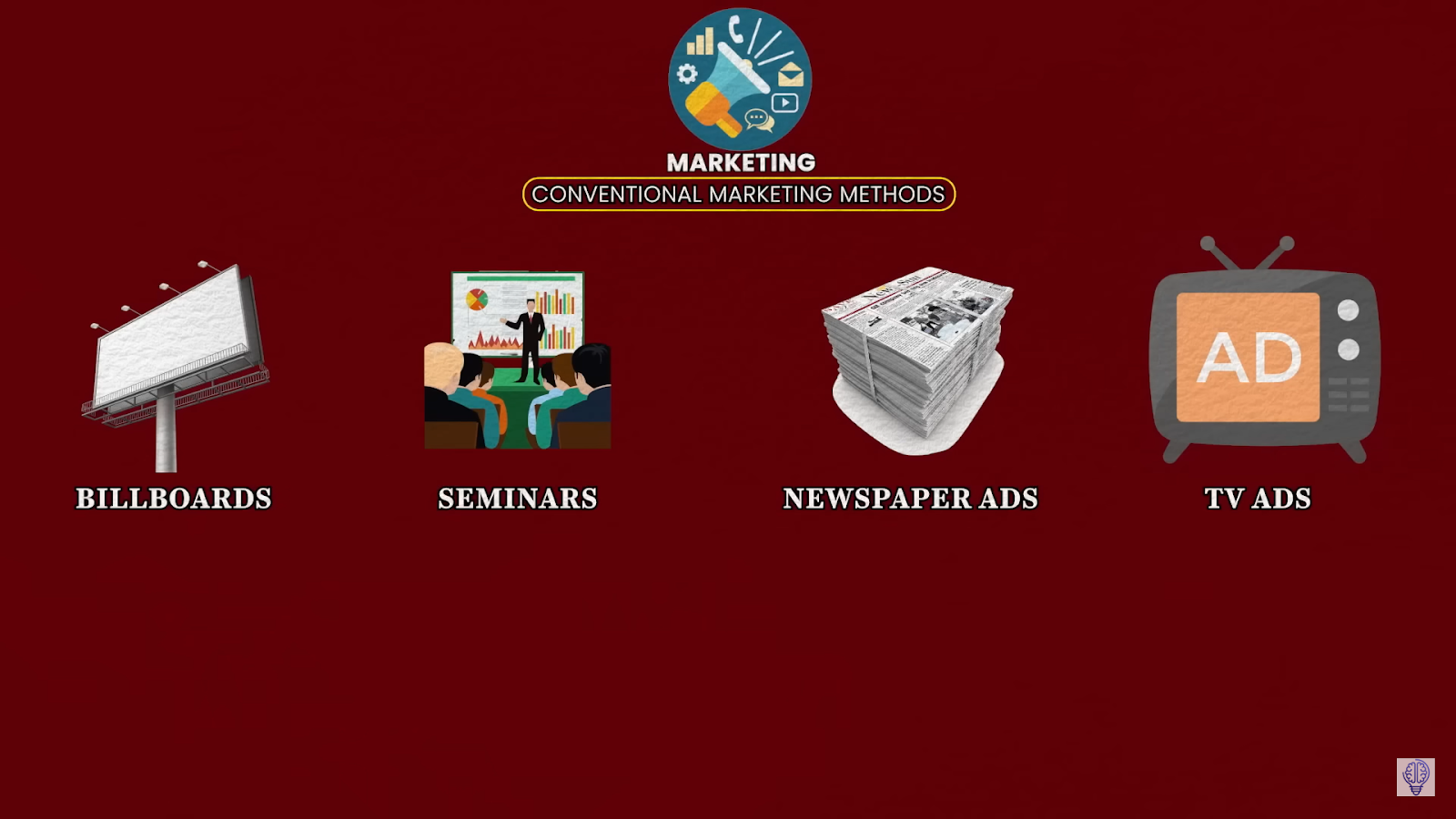 But then the Jio wave came in, and revolutionised the way the coaching industry of India functioned. This is when we saw the rise of Digital Coaching Institutes.
Instead of renting a classroom and hiring teachers for a year, they hired the best teachers, paid them two months of their salary and got them to record all their lectures on camera.
While some companies paid these teachers upfront, some companies built a partnership model, where the teacher takes live doubt sessions and gets a 10% commission on every course that has been sold.
The beauty of this model is that you don't need classrooms, you do not need a huge admin team, peons or electricity. Thus the miscellaneous expenses come down drastically.
Capital wise, this becomes very very economical.
There are other advantages you get with online coaching.
Your market now doesn't have to be restricted to a small radius of 15–20 km, but can reach across India to thousands of students. All you have to bear is the fees of hosting your course on a platform (not more than 2–5 Lakhs per year)
Your offering becomes extremely customised. Eg. You could sell physics, or the entire package of PCM. If a student wants just the recorded course, you could sell it at a low base price or if they want a doubt session, you charge another Premium.
Even advertising is more customised. Instead of spending ₹50,000 on a single billboard, you could get your video ads to more than 50,000 parents specifically.
Instead of spending 5 lakhs on a Newspaper Ad, you could reach a million people in your specific target audience with Facebook Ads.
Instead of spending ₹40,000 to book an auditorium and hope for 400 people to come, you could spend the same money and get 4000 people in your free webinar with a software subscription.
We consulted a Digital Marketing Agency called 'One Point Four Media' to understand the customer acquisition cost of high ticket courses worth ₹50,000.
Back in 2017–18, this cost was less than ₹10,000. That is an 80% profit margin.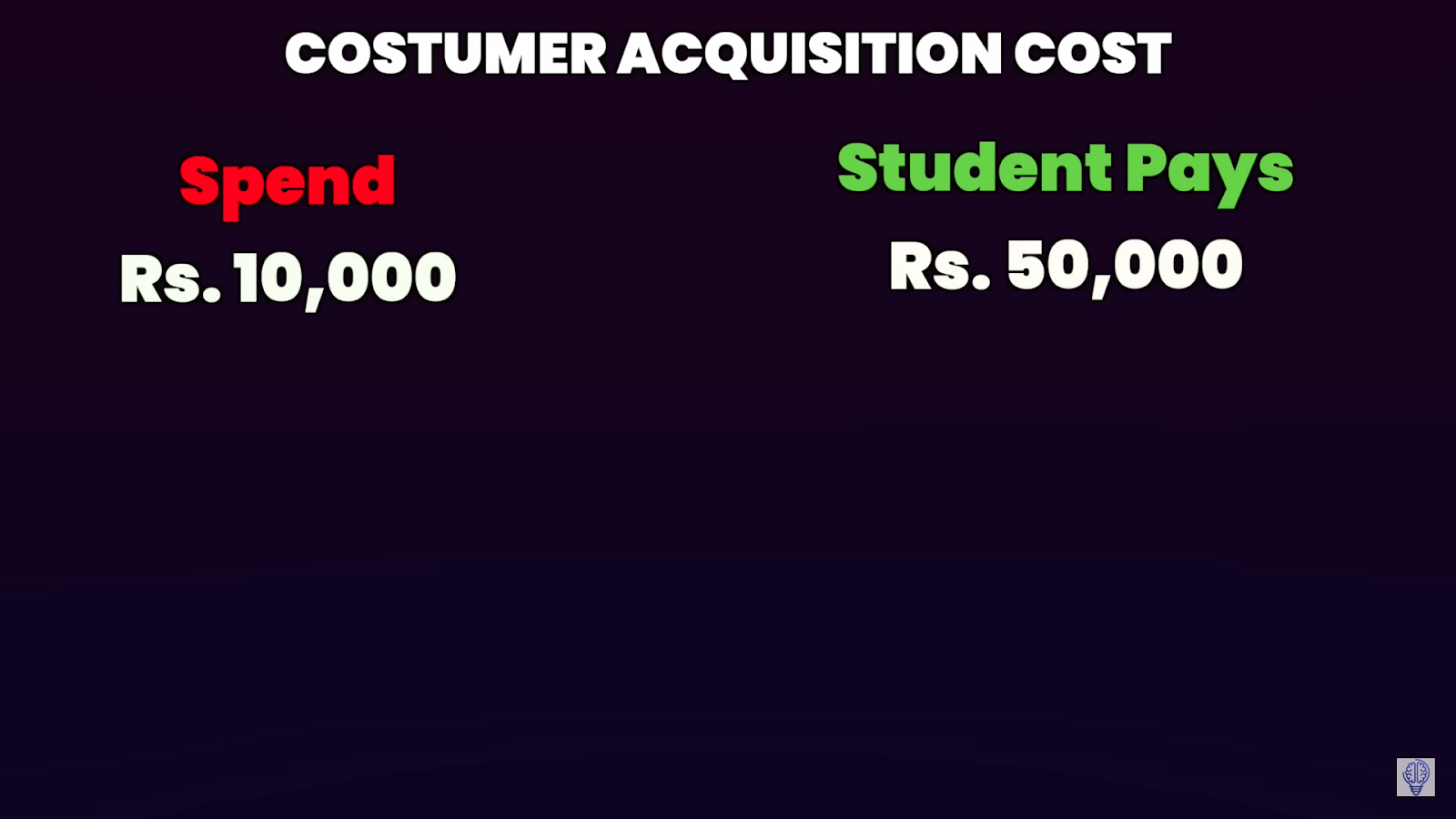 On top of this profit, taking out another 10% commission for the teacher, that is 70% in profits. This is a big deal on a scalable digital medium and a huge market like India.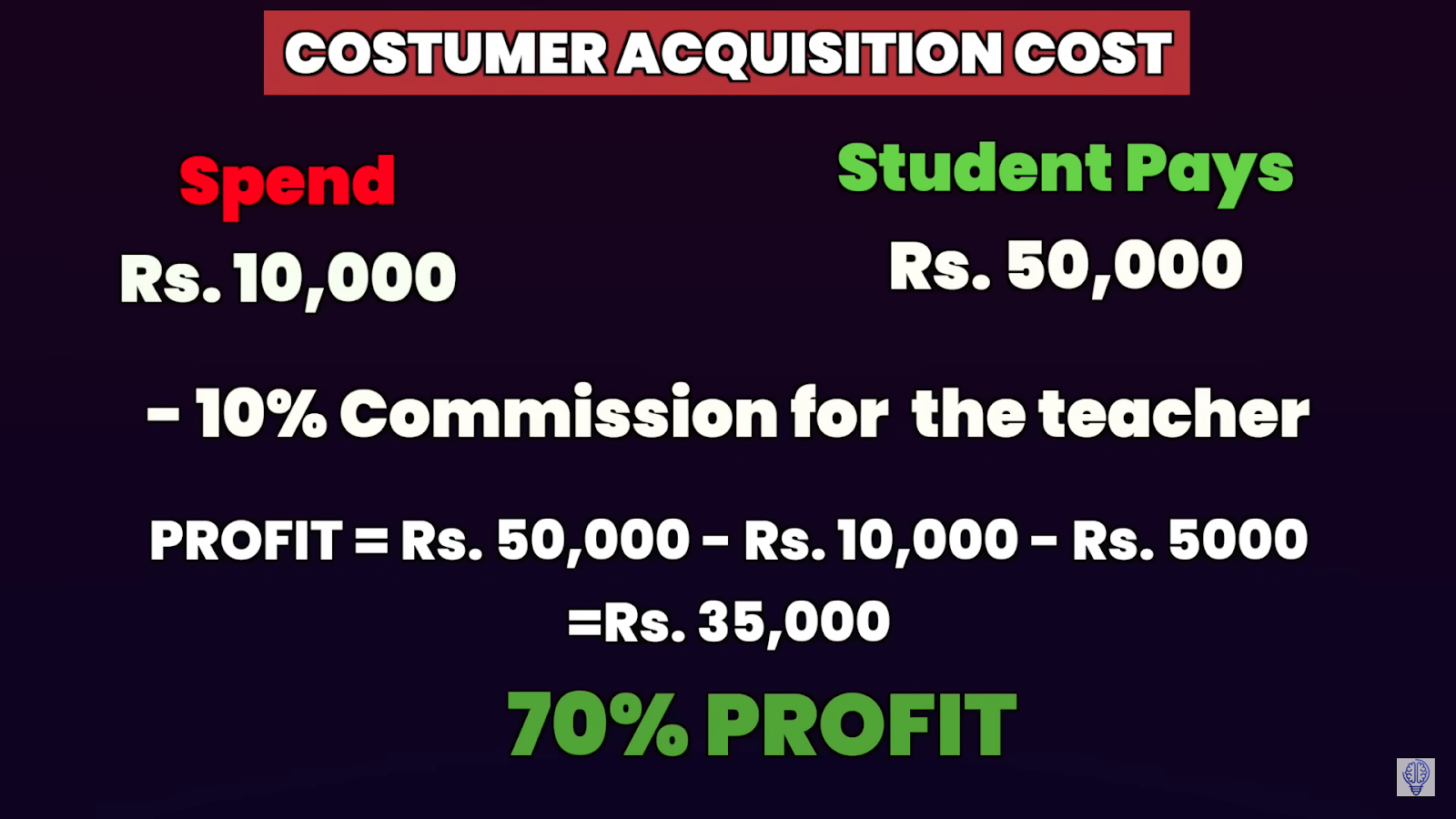 Now although there are many more hurdles in digital marketing also, like targeting, bad ads and bad production, the profits with EdTech business in 2017–18 was absolutely enormous.
So to summarise this quickly, EdTech previously needed ultra low working capital and was a high profit margin business with a limitless potential to scale. This is what led to a gold rush of investors; billions of dollars started pouring into every category of EdTech like Coding, K12, NEET, IIT-JEE and even UPSC.
So the question is
When this was a huge profit margin business and India is such a huge market, why are these companies going out of business?
Why are investors killing these companies?
And
Why are these companies laying off so many employees?
Well, it's because of the time between 2017 and 2022.
For any business, when the entry barrier goes down, there is also an extraordinary increase in competition.
So when course making got cheaper and selling got easier, everybody started shooting videos, using Instagram ads, cultivating a sales team and getting funding.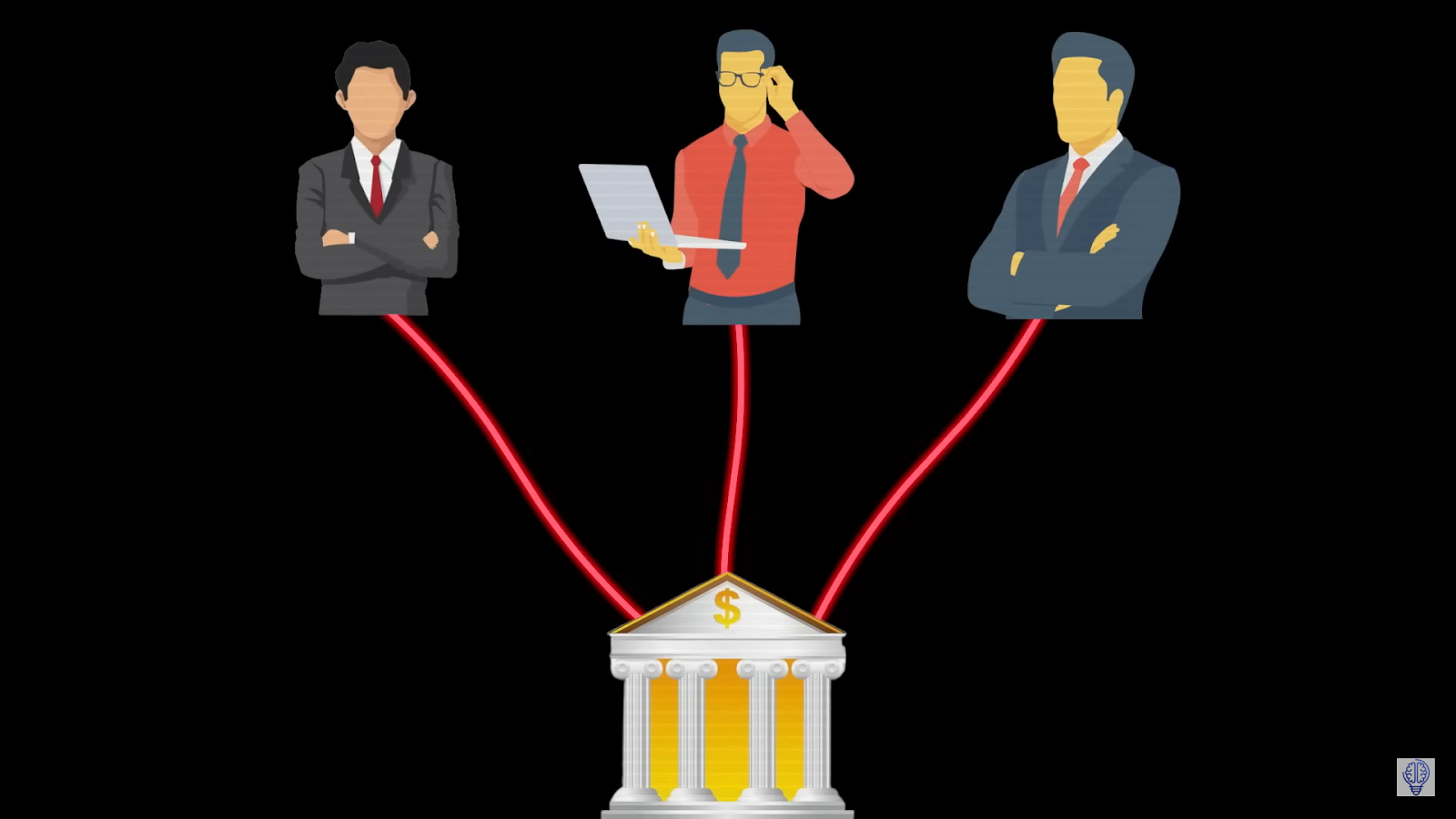 2 things happened:
1) When there are tons of Instagram ads for the exact same product, the cost per conversion increases drastically.
So back then, if you could convert a customer for ₹10,000, now with the market crowded, this number hit ₹20–30k.
2) Since a lot of players got funding, the pricing war started to heat up by 2019.
If you had a course for ₹50,000, but the competition started giving it out at discounts, the product cost decreased and customer acquisition cost increased.
In fact, before 2020, the CAC of these EdTech companies was somewhere between 20–25% of the Revenue.
As in ₹10,000–13,000 was needed to convert a student paying ₹50,000; but by 2020, the cost of customer acquisition shot up to 70–80% of revenue.
So in 2020 ₹40,000 is needed to convert a student paying ₹50,000.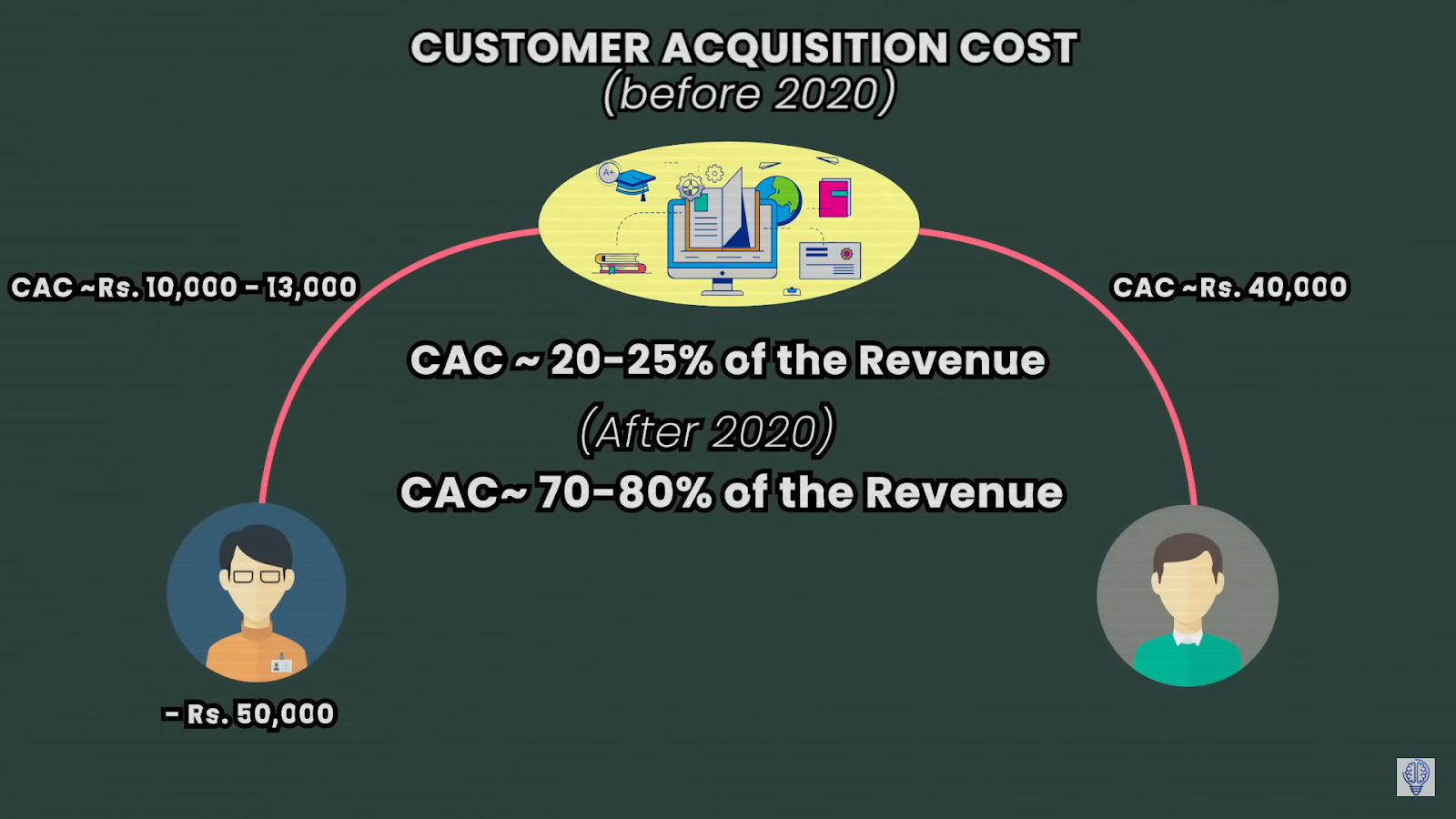 In fact, the Customer Acquisition Cost for an EdTech company operating in the K-12 segment in India varies from ₹10,000–60,000 per student.
So you see, the margins started growing thinner and thinner and after a certain point, most of these companies started incurring losses.
This is when the pandemic hit, and companies were ready to take this loss because this was the time to get customers habituated to online learning.
So again, the EdTech industry of India saw more ads, more discounts, more freebies, more hiring, more funding and most importantly, more players joining the Industry.
Now that schools and physical institutes have started again, the humongous resources that the EdTech companies gathered were no longer needed.
In simple words, during the pandemic, 500 students were buying a physics course, but when the schools started, 300 of them started going back to school.
The company had to fire the surplus staff of both teachers and admin.
So,
Is the EdTech crash finally here? How is it going to survive this crash?
Basically, there are 3 types of players in the entire EdTech space:
1) Superbrands like Byju's and Unacademy who have achieved top-of-the-mind marketing. They are hoping that once a student pays 50k and does well in exams, the parents might spend another 50k next year. So this time there is no cost associated with the conversion!
2) 'Rich Sellers'
These are the ones who don't have as much name recognition as Byjus but they have a tonne of funding to run countless ads on Facebook and Instagram.
3) Personal brands and organically built companies
Here we have people like Prashant Dhawan sir and Study IQ for UPSC, Telusko for Coding, Aman Dhattarwal, Shraddha and obviously the legendary Physics wallah.
These entities will always make money, always remain profitable and if they do it right – they could be bigger than Unacademy and Byjus without funding.
This is due to 3 reasons:
They have an irreplaceable brand that separates them from a commoditised EdTech market.
They have an incredible distribution channel to get students without running ads
Because of the brand they have built through content; Even if they run ads, their Customer Acquisition cost (CAC) is going to be ultra low.
So if you see closely, the funded EdTech sellers who don't have a content machine, are the weakest players in the industry. So even with a million dollar funding, these companies could easily go out of business.
What are the lessons we need to learn from the remarkable rise, fall and calibration of the EdTech market in India?
1) Whenever the entry barrier of a business decreases, it leads to humongous flooding of players into the market.
So either be a First Mover in the market like an Unacademy or Byjus or be a Smart Mover like Telusko and Aman Dhattarwal!
2) Instagram and Facebook marketing is reaching its peak; even though the cost to Instagram might not increase, the cost of conversions will keep increasing with time.
Soon enough, even though you have the best product in the market, you might be ignored by just a television ad in spite of spending a fortune on it.
So do not just rely on Ads.
3) Last and most importantly, no matter how much money or how much funding you have, if you don't build a personal brand for your company or yourself, you will be out of business in no time.
At the same time, if you have built a personal brand for yourself, if you have broadcasted knowledge to a million people, even a billion $ company cannot replace you!